To travel apparently means moving from one place to another, from one point to another along a line that connects the start and the destination. But the mere movement does not include involvement, does not include action, does not bring an enrichment. We start from A and we are x, we get to B and we still remain x. We have simply and unfortunately followed an empty principle of identity.
It's much more beautiful and it makes us feel more alive if we break this principle of identity, reversing the principle of non-contradiction. In fact, true travellers contradict themselves by remaining themselves.
The real journey begins in the head and it is a conscious change: we start, for example, from Rome and decide to go to Sofia: we will get there but when we arrive we will no longer be ourselves, or we will be us with new and different knowledge, experience, meetings: we will be completely new and different people.
This is the basis of the Experience Pro, to travel to know your new self, to discover yourself.
This discovery can take place in the most beautiful cities in Europe, such as Sofia, Mons, Pontevedra, Milan, Rimini; assisted by tutors and expert teachers and with courses in the most exciting sectors (Art Photography, Street Photography, Music, Food Business, Interior Design and others), the voyage of discovery becomes even more beautiful and fascinating.
As I said earlier, the journey is one of the core elements of the Experience Pro, so we have decided to launch a three-month campaign on the easyJet Traveller Magazine that you can find on any flight of the company. It will start with an advertorial (see the picture below) for the January edition and we will continue with two advertisements in February and March.
In addition, to facilitate those who are interested, there is a 20% discount obtainable by photographing the advertorial and posting it on Instagram with the hashtag #easyexpro or by sending the photo to the following address: expro@experiencepro.com.
Here is the advertorial published in the easyJet Traveller Magazine: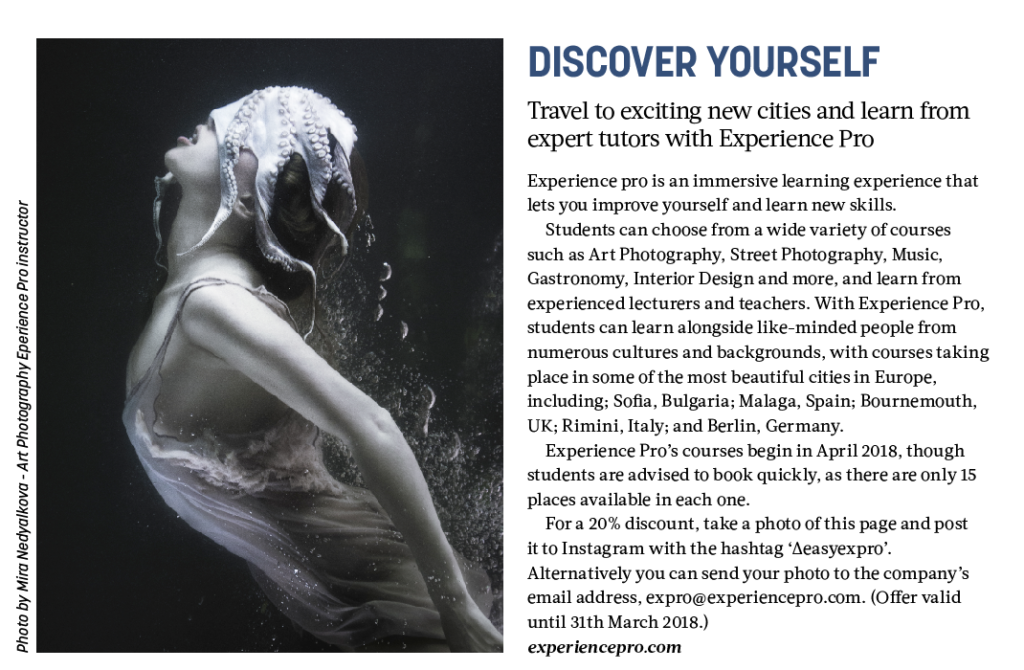 So enjoy your voyage of discovery and in the meantime… stay tuned!
---
To discover the activated Experience Pro programs and get more information, visit www.experiencepro.com
Translated by Gabriel Tripaldi