A very Happy New Year to everyone from Berlin!
These past holidays have been full of the traditional indulgences food, lazyness and famliy. Sadly, on December 19th, an individual felt the need to disturb this peaceful time of the year. Media all over the world put their focus on Germany's capital and people were worried about their friends and colleagues living in Berlin.
However, Berliners are known to be a resilient and special kind of people. We here in Berlink try to give this special Berlin experience to all our students, making them feel all the warmth and welcome this great city has to offer. Berliners won't give in and nothing can get them down.
Holiday spirit in Berlin wasn't broken by this vicious attack and on December 23rd I had the chance to be a part of one of the city's great traditions. Berlin's 2nd biggest football club Union Berlin is known for it's extraordinary fandom and every year on the day before Christmas Eve, it's stadium fills with people gathering to sing Christmas carols. This tradition started with less than 100 fans 13 years ago, and this past Christmas all 28,000 tickets were sold out months in advance.
We have here a small glimpse for you of this past Union Weihnachtssingen, showing just how big Berliners' hearts are and why it will always be the place to be!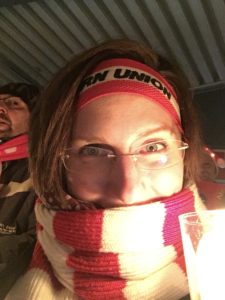 Written by Jasmin Chaves Weinert
(Work Placement Officer at Berlink)