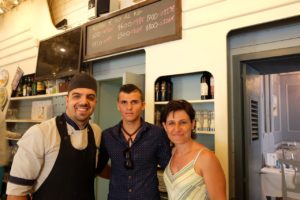 Hello Europe!
Irena di Sistema Turismo ha presentato i ragazzi bulgari della Scuola Professionale "Light Industry and Tourism" di Svishtov alle compagnie presso le quali svolgeranno lo stage.
Ivan lavorerà al ristorante La Marianna mentre Nayle sarà impegnata con Osteria De Borg.
Entrambi impareranno a preparare i piatti tipici italiani come le tagliatelle con le vongole e la piadina, un must dell'Emilia Romagna.
A noi non resta che augurare "buon appetito" a tutti.
---
Hello Europe!
Irena made the presentations of the Bulgarian students from the Vocational School of Light Industry and Tourism, Svishtov.
Ivan will work into the typical Italian restaurant La Marianna while Nayle to Osteria De Borg.
The students are going to learn how to prepare typical Italian dishes, like tagliatelle con le vongole and piadina, typical of the Emilia Romagna Region.