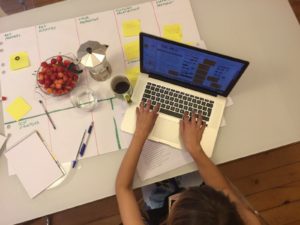 Hello Europe!
There are many ways you can start your working day.
The girls of the Marketing LAB this morning made sure they had their cup of coffee ready, a bowl of fresh cherries, and the right energy to bring in for their kick-start meeting.
Being a small team can be an advantage when it comes to have things done: Renata, Milena, Darina and Snezhana are working hard to let ETN Focus Workshops boost.
You can follow their activities at www.etnworkshops.com, read their posts on Spotlight and be updated on each event news on our Facebook and LinkedIn pages.
---
Hello Europe!
Ci sono molti modi per cominciare una giornata di lavoro.
Oggi, a Sofia, le ragazze del Marketing Lab si sono assicurate di avere la loro tazza di caffè, ciliegie fresche e l'energia giusta per cominciare nel modo migliore il loro meeting mattutino.
Essere un team di piccole dimensioni può essere un vantaggio quando hai degli obiettivi da raggiungere: Renata, Milena, Darina e Snezhana stanno lavorando duramente per promuovere gli ETN Focus Workshop.
Puoi seguire loro attività su www.etnworkshops.com, leggere i loro messaggi su Spotlight e tenersi sempre aggiornati su ogni novità dell'evento sulle nostre pagine Facebook e LinkedIn.