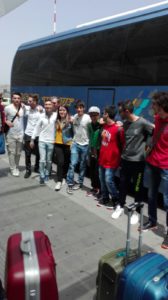 Hello Europe!
Ieri è stata una giornata di arrivi per Berlink, la nostra agenzia di Berlino, che ha dato il benvenuto a 10 studenti dell'Istituto d'Istruzione Superiore "Euclide" di Caltagirone.
I ragazzi, beneficiari del progetto Astra, vivranno nella splendida città tedesca per un mese e faranno uno stage nei settori dell'Agricoltura, Sport e Turismo.
Anche il professore che li accompagna avrà una parte attiva all'interno del programma: oltre al fondamentale ruolo di Virgilio, sarà infatti impegnato nella definizione di competenze e professionalità legate alla nuova ed emergente figura di Green Life Coach.
Un mese intenso, dunque, con Berlino a fare da fantastica cornice.
---
Yesterday was a great and busy day for Berlink, our agency in Berlin, which welcomed 10 students from the Istituto d'Istruzione Superiore "Euclide" of Caltagirone.
The students, participants of the Astra project, will spend one month in the beautiful German city and will do an internship in the sectors of Agriculture, Sport and Tourism.
The teacher who accompanies them will have an active part in the program: in addition to the fundamental role of Virgil, he will be engaged in the definition of the skills related to the new and emerging figure of the Green Life Coach.
An intense month, living and breathing Berlin!